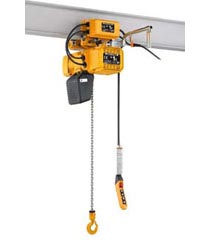 Electronic hoists have an additional feature called the hoist controller that can have various features depending on the preset specifications. Some examples of such features can be for the hoist to automatically lift a load when a container is full or acceleration and deceleration of the hoist's speed when picking up or putting down a load. They also supply the electrical energy needed for the hoist to function.
As compared to the various types of hoists, electrical hoists are the most economical as they are more cost effective and easier to repair. As compared to the manual hoist that would require extensive manpower to run it, electrical hoists save cost on man power and are more efficient. Hydraulic or pneumatic hoists have their own advantages as well but may have a tendency of needing repairs more often as compared to the electrical hoist.
Working of Electric Hoist
Initially the hoist is attached to a solid load bearing structure, such as a mobile gantry, jib crane or steel beam, or even just a robust, solidly anchored hook /eye. When secured the hoist's chain system may be lowered using the powered control pad, close to the item which is to be lifted, this is then either fixed directly to the load if appropriate, but a further chain sling or web sling is often utilised as these can be located around the load about its center of gravity, this is to ensure a balanced lift that will not tip. The sling is then attached to the hoists chain hook and then you are ready to lift, slowly at first until you are certain of its stability.
Most electric hoists will incorporate some kind of safety mechanism to prevent loads slipping and overloading, which can be extremely dangerous. Hoists usually work with a clutch system, this allows the chain to slip at a preset torque which prevents any overloading.
Some electric hoists the overload limit is operated via the chain mechanically engaging with a switch mechanism. Most modern hoists have safety cut out switches so that power can be cut instantly if there is a problem with the lift.
There are a variety of reasons, the main issue is probably safety, as there use can hugely lower the risk of injuries; this is due to the fact that the hoist takes all the weight, not the individual, we all know how easy it is to strain your neck or back by incorrectly lifting even the lightest object. This brings us to the next advantage of cost efficiency, electric hoists are cost efficient because firstly they do the lift of what would have possible taken 3 or 4 men or more to lift, therefore reducing manpower needed, secondly as they greatly reduce injuries there will be less time off sick and so no reduction in manpower and no sick pay to provide.
Needs International Electric Hoist provides an inverter as standard in all dual speed hoists except for power voltage of 500 V or more. It is known for delivering smoother movement.