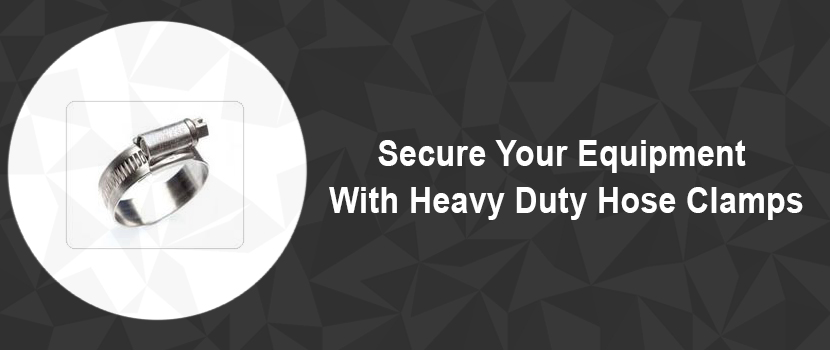 Industries comprise all types of equipment. Heavy and large machinery builds up the industrial setup to a great extent. They also consist of the minute parts such as nuts, bolts, clips and clamps. Each component of the machinery plays a vital role in the entire system.
Piping and tubing systems are present in industries for different purposes. They may be attached to the machinery or may connect different parts of the equipment. It is very crucial to attach them securely. It is best done with the aid of JCS Hose Clamps.
The Purpose Of Hose Clamps
A hose clamp is a device that securely fits the tube to another fitting. This may be a barb or nipple. The purpose of this clamp is to fasten the tube or pipe in place to the machinery or equipment. It makes the flow of liquids, chemicals or gasses safe and secure.
It prevents any kind of leakage and provides a secure passage for the material. These make the industrial system foolproof.
Uses Of Hose Clamps
Common uses of clamps are in several industries. Some of these include pharmaceuticals, construction, plumbing, aviation, petrochemicals and home appliances among several others.
JCS Hose Clamps are useful pieces of equipment that are found in all kinds of industries. They are mostly used as glass, heavy duty and pipe clamps.
Types Of Hose Clamps
Several types of hose clamps are used in industrial systems. Some of the types are screw bands, T-bolts, springs, swivels and suspension clamps. Uses of a few structures of clamps are:
Spring Clamp- Ituses a spring to hold onto a workpiece being worked upon and keep it in place. It is best suited for single-point contact and is operated with one hand.
Swivel Clamp- These clamps are used particularly in securing the scaffolding tubes at certain angles. These clamps render the flexibility to maneuver the scaffolding as required.
Suspension Clamp- They are used for hanging cables and wires securely from towers or poles. These lend support to the cables that are tied between two poles. The clamps provide the required flexibility for movement at various angles.
Material And Sizes Of The Clamps
The materials for JCS Hose Clamps are aluminum and stainless steel. They have a coated finish in silver color. The surface treatment of these clamps is high-density polyethene and hot dip galvanized.
They are available in a wide range of dimensions and cater to the specifications provided by the customers. They vary in thickness, diameter and size in differing ranges. They are thus able to carry out multiple functions.
Quality Of Hose Clamps
JCS Hose Clamps are well-known for their superior quality. They are manufactured with high-quality raw materials. These products are quality-tested by a knowledgeable team. They are anti-sealant and highly durable. The twisting force of these clamps is high which can withstand a significant amount of pressure.
To sum up, it may be stated that hose clamps serve a variety of industries. These might be tiny pieces of equipment but have a versatile utility across industries. Hence, their material quality and superior make are of vital importance for industrial uses.