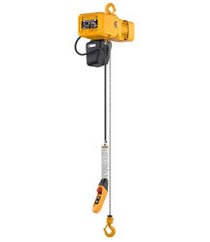 An electric hoist is a device that uses electricity to lift, lower, and even move large or difficult things. They are primarily used to reduce the risk of strain and damage to anyone who needs to move a big object or when the thing is just too heavy for a human to lift alone.

Electric hoists exporters provide these products in sufficient quantity across many different types of the working environment; they are commonly used on construction sites, workshops, in warehouses, dockyards, car maintenance garages, and large ships, but they are also used in places you would not expect, such as lifting massive tree stumps out or bringing down a chandelier for cleaning and maintenance.

What does an Electric Hoist do?
These hoists are electromechanical devices that rely on mechanical advantages to move items upward and sustain hanging weights. Electrical hoist equipment works by spreading weight using gears or pulleys and transforming low range force over long distances into big forces over short distances.

It works by winding a wire rope around a drum or a passing chain over a sprocket and then over additional gears and pulleys of various radii.

Why use Electric Hoists
The major reason for utilizing electric hoists is undoubtedly safety, as their use may greatly reduce the chance of accidents; this is due to the fact that the hoist takes all of the weight, not the user, and we all know how simple it is to strain your neck or back by wrongly lifting even the smallest thing.

The next advantage of using electric hoists are cost-effective because, first, they do the lift that could have taken three or four men or more to do, thereby reducing the manpower required; second, because they greatly reduce injuries, there will be less time off sick, resulting in no reduction in manpower and no paid holidays to provide.

Specifications
The exporters of Electric Hoist in Delhi provide hoist offering different lifting capacities such as 10 to 15 tons, 15 to 20 tons, and 20 to 25 tons. A single electric hoist weighs from 100 kg to 1000 kg. These products are easier to maintain and have a smooth and ergonomic operation. The exporters of the electric hoist are well-known for the compact and safe design they provide with greater durability.

Choosing an Ideal Hoist
For selecting the right electric hoist, given things should be taken care of-

• Load lifting requirements: determine what weights are to be listed on the site. Then, choose an electric hoist with a capacity more than your daily demand. This increases the Hoist's longevity while also lowering the danger of an accident.

• Expected Number of Lifts: it is also important to evaluate the number of lifts expected per day. Tensile strength is equally important as other requirements for various weights and number of turns.

• Selecting Wire Hoist and a Chain Hoist: For heavier weight lifting, a wire hoist fits the bill better. A chain hoist is more suited for small-scale operations since it accomplishes the job more compactly.

• Lifting speed: is an important consideration when choosing the proper electric hoist. Faster lifting speeds are necessary for longer distance lifts or lifting applications that include many raising-lowering cycles in a short period of time. Lower speeds are more suited for lifting when accuracy is required.

The exporters of electric hoists in Delhi provide the best quality hoist delivering smoother movement and are available at reasonable rates.